Friday, July 28, 2006
Polling places sway votes both ways
According to a Daily Star article written by former Wildcat editor Daniel Scarpinato, the polling place in which people vote may sway votes one way or the other, that according to a Stanford University study.
Current reaction indicates that people think Scarpinato is part of some liberal conspiracy. From my recollection, Scarpinato's op-ed writings were very liberal indeed. That doesn't mean he can't be a fair journalist, though.
In fact, I've thought about this multiple times. For the time I've been registered in Pima County, my assigned polling place has always been First Christian Church, which regularly supports 'peace' marches and houses Humane Borders, an organization that sticks water tanks out in the middle of the desert for illegal immigrants.
So imagine walking into a polling place where there's a water tank for illegal immigrants outside. Bias, perhaps?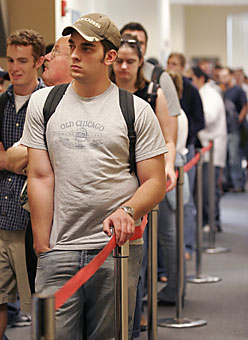 Students wait in line to vote inside ASUA's office spaces
---
Matt Robles / Arizona Daily Wildcat
The same principle ought to apply to ASUA as well. When ASUA put up its own early voting site, students voted just near an office responsible for lobbying the state legislature for increased education funding, feminist advocacy, and homosexual advocacy.
Does this condemn the elections process to become a home based process either via the Internet or mail? In a certain way I hope it does.
Clarification: First Christian Church is the polling place for all students living on the UA campus. While I spent my second and third years of school living off-campus, my polling place has remained the same.
posted by GPO, 09:33