Friday, February 24, 2006
Brother Jed returns Monday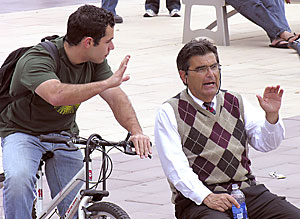 BRETT FERA/Arizona Daily Wildcat
I am told that the website of controversial mall preacher Brother Jed reports that he is returning to the University of Arizona campus on Monday for a weeklong stint.
Last time the Wildcat reported that he'd be heading to ASU the following week as Smock's schedule claims. He stayed an extra week.
As I found last year, Brother Jed thinks he doesn't sin. Mockers of Bible Babble Jim are sure to have a ball.
posted by GPO, 07:13